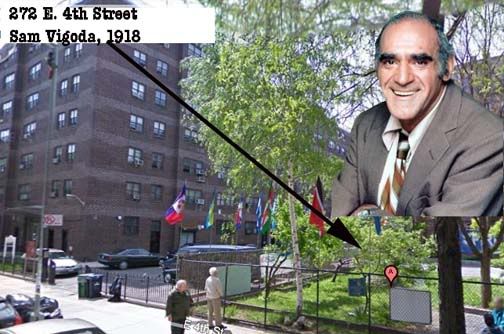 btw, Tessio is not Italian. Abe was born in 1921, but in 1918 has father was living at the above address.
Later the family moved to Brownsville.
About Abe:
Abraham Charles "Abe" Vigoda; (born February 24, 1921) is an American movie and television actor. Vigoda is well known for his portrayal of Sal Tessio in The Godfather, and for his portrayal of Detective Sgt. Phil Fish on the sitcom television series Barney Miller from 1975–1977 and on its spinoff show Fish that aired from February 1977 to June 1978 on ABC. Vigoda was still also appearing on Barney Miller at the same time as he was on Fish during the 1976–1977 TV season; at the start of the 1977–1978 season, his character retired from the police force and left Barney Miller to focus full time on the spinoff.
He made regular appearances as himself (usually in skits relating to his "advanced age") on the television show Late Night with Conan O'Brien, including a cameo on that show's final episode.
Vigoda was born in New York City, the son of Lena (née Moses) and Samuel Vigoda, Jewish immigrants from Russia. His father was a tailor and his brother, Bill Vigoda, was a comic-book artist who drew for the Archie comics franchise and others in the 1940s.
Vigoda was married once, to Beatrice Schy from February 25, 1968 until her death on April 30, 1992. They had one child, a daughter, Carol. Vigoda gained fame through his supporting character roles, notably as elder mobster Salvatore Tessio in The Godfather (1972). He gained further fame playing Detective Sgt. Phil Fish on Barney Miller, and then led its brief spinoff Fish until it was canceled in 1978. Before Barney Miller, he made a few appearances on the ABC TV soap Dark Shadows. He has also appeared in several Broadway productions, including Marat/Sade (1967), The Man in the Glass Booth (1968), Inquest (1970), Tough to Get Help (1972), and Arsenic and Old Lace (1987). His trademark hunched posture and slow delivery of lines made him appear older than he really was.
On January 23, 2009, Vigoda appeared live on The Today Show. He said he was doing well, joked about previous reports of his death and in fact announced he had just completed a voice-over for an H&R Block commercial to air during the Super Bowl. On December 30, 2009 Vigoda was invited back to The Today Show to appear live on the set for Matt Lauer's birthday party. Vigoda was warmly greeted by Lauer who called him "our favorite guest of all times" on the show. Vigoda then sat and discussed his long career with Lauer.
Vigoda appeared alongside Betty White in a Snickers commercial that debuted during Super Bowl XLIV on February 7, 2010.[5] The actor has also been honored with pop culture references, many in connection with false reports of his death (see below). Jazz bassist Eric Revis's song "Abe Vigoda" appears on saxophonist Branford Marsalis's 2009 album Metamorphosen.