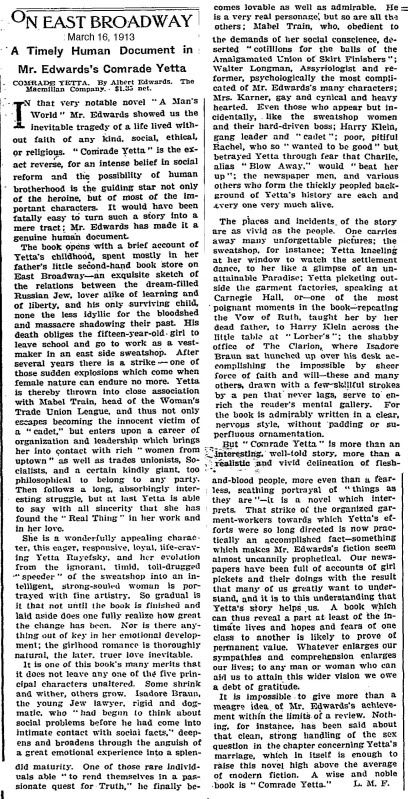 link to download the book
A review of a 1913 book that dealt with striking garment workers.
an excerpt
Source: The Cry For Justice: An Anthology of the Literature of Social Protest, ed. by Upton Sinclair, John C. Winston Co., 1915.
Transcribed: for marxists.org in January, 2002.
(The story of an East Side sweat-shop worker who becomes a strike-leader. The present scene describes a meeting in Carnegie Hall)
YETTA stood there alone, the blood mounting to her cheeks, looking more and more like an orchid, and waited for the storm to pass.
"I'm not going to talk about this strike," she said when she could make herself heard. "It's over. I want to tell you about the next one--and the next. I wish very much I could make you understand about the strikes that are coming....
"Perhaps there's some of you never thought much about strikes till now. There's been strikes all the time. I don't believe there's ever been a year when there wasn't dozens here in New York. When we began, the skirt-finishers was out. They lost their strike. They went hungry just the way we did, but nobody helped them. And they're worse now than ever. There ain't no difference between one strike and another. Perhaps they are striking for more pay or recognition or closed shops. But the next strike'll be just like ours. It'll be people fighting so they won't be so much slaves like they was before.
"The Chairmen said perhaps I'd tell you about my experience. There ain't nothing to tell except everybody has been awful kind to me. It's fine to have people so kind to me. But I'd rather if they'd try to understand what this strike business means to all of us workers--this strike we've won and the ones that are coming....