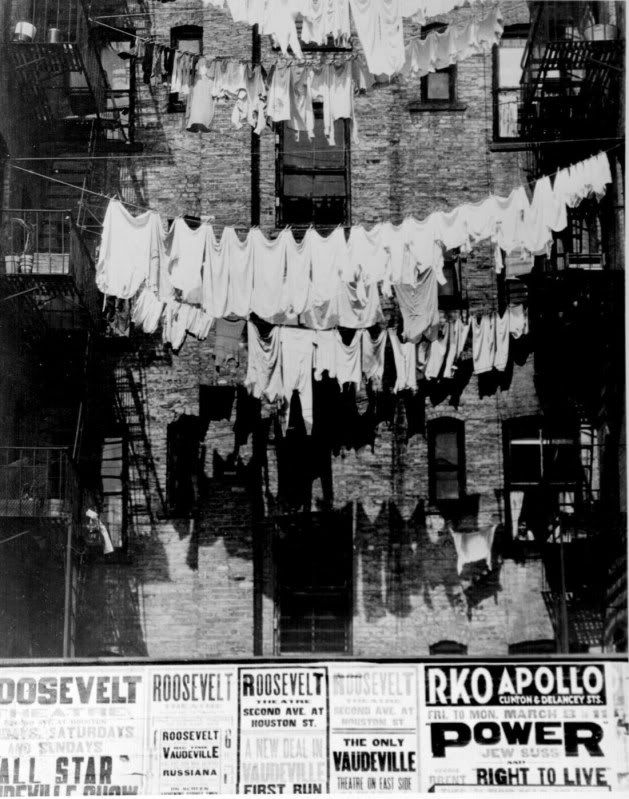 The ads for burlesque are for the Roosevelt Theater/aka National Winter Garden, at nearby Houston Street.
Here's a previous post showing that theater.
Gypsy performed there when it was run by the Minsky's
Gypsy Rose Lee (January 8, 1911 – April 26, 1970) was an American burlesque entertainer, famous for her striptease act. She was also an actress, author and playwright, whose 1957 memoir was made into the stage musical and film Gypsy.
Gypsy Rose Lee was born Rose Louise Hovick in Seattle, Washington in 1911, although her mother later shaved three years off both of her daughters' ages. She was initially known by her middle name, Louise. Her mother, Rose Hovick (née Rose Evangeline Thompson), was a teenaged bride fresh from a convent school when she married Norwegian-American John Olaf Hovick, who was a newspaper advertising salesman and a reporter at The Seattle Times. Louise's sister, Ellen Evangeline Hovick (better known as actress June Havoc), was born in 1913.
After their parents divorced, the girls supported the family by appearing in vaudeville where June's talent shone, while Louise remained in the background. At the age of 15 in December 1928, June eloped with Bobby Reed, a dancer in the act, much to her mother's displeasure, going on to a brief career in marathon dancing, which was more profitable than tap dancing at the time.
Louise's singing and dancing talents were insufficient to sustain the act without June. Eventually, it became apparent that Louise could make money in burlesque, which earned her legendary status as a classy and witty strip tease artist. Initially, her act was propelled forward when a shoulder strap on one of her gowns gave way, causing her dress to fall to her feet despite her efforts to cover herself; encouraged by the audience response, she went on to make the trick the focus of her performance. Her innovations were an almost casual strip style, compared to the herky-jerky styles of most burlesque strippers (she emphasized the "tease" in "striptease") and she brought a sharp sense of humor into her act as well. She became as famous for her onstage wit as for her strip style, and—changing her stage name to Gypsy Rose Lee—she became one of the biggest stars of Minsky's Burlesque, where she performed for four years. She was frequently arrested in raids on the Minsky brothers' shows.

about the picture above from burlesque modernisms
So, what to do? Well, by continuing to look around, one finds that in a later essay, written in 1936, entitled "Burlesque, I Love It!", Cummings is lamenting the "lost art of the burlesque" and he has dropped the "K". What's more, this photograph suggests that, by 1936, the burlesque at Minsky's Roosevelt Theatre has been overshadowed by Vaudeville. The discovery of the picture forces a few interesting possible lines of analysis: