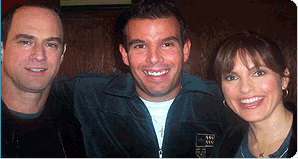 from the December 5th nypost Rumble
Bobby the battler
The Rumble wishes a speedy recovery to Bobby Palumbo, former president of OTB and current NYRA official who is on the mend from a heart attack and triple-bypass surgery around the Thanksgiving holiday. Palumbo, 70, still lives in Knickerbocker Village in the shadows of the old New York Post newsroom on South Street. His son, John, former Knicks ballboy turned actor, recently completed shooting "Sweet Lorraine" with Tatum O'Neal.
Seen in the middle of above pic is John, playing Lucio, a mobster's son under investigation by detectives played by Christopher Meloni and Mariska Hargitay in an episode of Law and Order: Special Victims Unit.