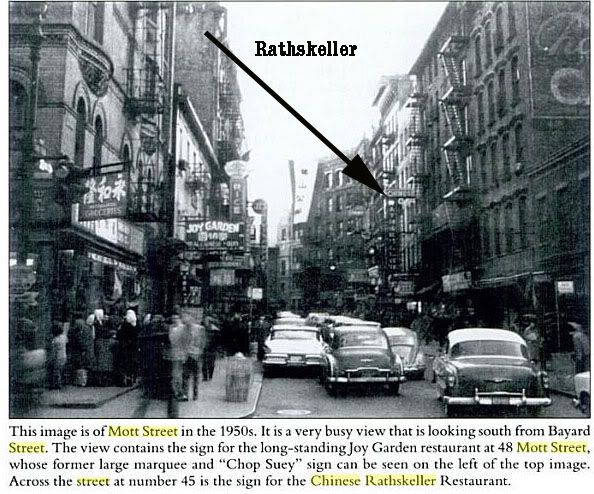 The image is from Manhattan Chinatown Postcard History
The restaurant can also be viewed
in this previous post on 36 Pell Street
I discovered some fascinating history on the Quan family that owned the Rathskeller.
From a Quan family history site
Quan ancestors were first from the north near Xi'an during the Southern Song Dynasty (1127-1279). They left that area as refugees and headed south, probably when as the Mongols were invading from the north. The first place they settled was near Nam Hong Ju Gai Ho. Five or six brothers in the fifth or sixth generation moved to Gau Gong. Sa jue On Leung Hong.
When evening comes, they close the gate to the castle. The gate of the castle is called "guan" in Chinese. When Guan Goong was born, legend has it that he pointed to the gate and said that will be my family name.
* 1831 or 1832-Quan Wei's father is born. The elder Quan's first wife died and he married a second one. They lived in Nanning in Quaanxi Province, China. "For correct information," Aunt Han said to me, "you should ask my aunties. But they are all gone." She paused and then stared at the ceiling for a few moments. "Did you eat all the peas I gave you?" she asks as she stirs herself from her thoughts. "It is healthy. I told you to eat one in the morning and one in the evening."
* 1878-Quan Wei is born outside the village of Gau Gong (On Leung Sa Jeu? Village north of Gau Gong). He was the third child among five.
* 1884-Quan Wei's mother dies. Then his youngest brother died.
* 1890-Quan Wei's father dies. Then his oldest brother died. Quan Wei was now the sole male Quan. His older sister picked mulberry while his younger sister raised silk worms for silk and did the housework. They were very poor and the village was hit hard by a famine. One day, Quan Wei came home to find that his youngest sister died after being sick for a while from starvation. He did not even have money to pay for a coffin in which to bury her. He and his remaining sister were so poor that at one time, they only had only a half a bowl of rice between the two of them. They made watery jook (congee). His sister drank the water and left the rice for her brother. So Quan Wei and his older sister left the village-side for Gau Gong. There, we worked as a cook and food delivery boy to earn a living. He then found work doing manual labor for a German export company. He learned business while working. He had some wealthier relatives who asked him if he wanted to go to Indochina to work. He went for two years. Then another cousin invited him to go to the United States. Quan Wei agreed to the five year debt for transport to the US. He earned roughly $10 a month and lived in the basement of a store. Over time, he was promoted. In the late 1890s or early 1900s, he received a telegram that told of the death of his older sister. She died within 24 hours of contracting black fever. He was so distraught that he lay in bed for seven straight days and nights refusing to eat anything, stricken by his grief.
* 1904-Quan Wei returns to Gau Gong to find a wife. He marries Quan Gwei Sihm.
* 1906-Quan Chew is born.
* 1909-Jue Chaw Hung is born. (1903 on paper)
* 1912-Quan Wei's second child-a daughter-is born.
* December 5, 1914-Quan Shun is born.
* 1915-Quan Wei builds house on Mansau Gaai in Gau Gong. Quan Yi Ping, Quan Yi Han, Quan Mo Yim (James Quan), and Quan Mo Wan (Winnie Quan) are all born in that house. The house had three buildings with three courtyards. The first structure was three stories, the second structure was four stories, and the third structure was two stories. At one point before the family immigrated to the United States, Quan Chew and Quan Jue Chaw Hung lived on the first floor of the first structure, Quan Shun and Bonnie Quan lived on the second floor, and Quan Ping and Quan Han lived on the third floor.
* 1915-A massive flood hit Gau Gong with the water rising almost to the second floor of the house. Quan Wei's first cousin's wife (Sze Tai Goong's wife, Sze Tai Po) and their son (Yi Goong) were almost swept away by the raging waters. Quan Wei threw them a rope and saved their lives. The family had to live on the second floor until the waters subsided.
* 1915-Quan Yi Ping born.
* 1925-Quan Wei took his son, Quan Chew, to Gau Gong to get married. Quan Chew married Jue Chaw Hung. She was 16 years old at the time. Quan Wei then sent Quan Chew to San Francisco to start his own business.
* 1926-Quan Wei leaves Gau Gong for Hong Kong and opens an import-export company, Sun Sung Cheung.
* 1927-Quan Wei goes to New York City and opens Sung Ying Cheung. The year before, his cousin opened Sung On Cheung in San Francisco.
* August 2, 1928-Quan Mo Lan (Marilyn Quan) is born.
* 1931-Quan Wei's second child dies when she is 18 years old.
* July 5, 1932-Quan Mo Ying (Lorraine Quan) is born.
* 1932-Quan Wei returns to Gau Gong. Quan Shun and Bonnie Quan are married.
* September 8, 1933-Quan Mo Wan (Winnie Quan-June 2, 1933 on paper) is born in Gau Gong.
* 1935- Quan Wei goes to Hong Kong.
* October 21, 1934-Quan Mo Yim (James Quan) was born in Gau Gong.
* 1936-Quan Wei goes to New York City. He opens the Chinese Rathskeller Restaurant on December 21 at 45 Mott Street with the help of a small loan from a New York bank.
* 1939-1943-Quan Han attends university in Chongqing.
* 1941-Quan Wei leaves Hong Kong for the United States. The Japanese forces had just entered Hong Kong.
* May 4, 1943-Quan Wei dies in New York City.
* August 12, 1945-Quan Yi Han comes to United States for first time, arriving in San Francisco. She immediately embarked on a two-day train ride across the country to New York City. As a personal amenity, she bought herself a pillow for 25 cents. She arrived in New York City on August 15th. Once in New York, she was able to get a job at the United Nations for $130 for two weeks.
* 1948 - 1949-Quan Yi Han attends the University of Michigan.
* Spring 1949-Yi Han hears about the sweeping Community victories while she was at the University of Michigan. She was with six other Chinese students at the time.
* 1949 - 1950-Yi Han lived in New York City looking for a job.
* October 1, 1949-The Communists proclaim the Peoples' Republic of China.
* October 1949-Yi Han takes the United Nations test for a job.
* April 1950 - 1952-Yi Han works at the United Nations as a translator and transcriber.
* March 1952 - 1954-Yi Han studies in England for a Masters of Librarianship.
* November 1954 - October 1955-Yi Han lives in Hong Kong.
* August 1955-Quan Gwei Sihm immigrates to New York City.
* October 1955-Yi Han moves to Beijing. She saw that the Communists were for the people while the KMT for themselves only. For example, she notes, in 1941 or 1942, Chiang Kai Shek fought along the Yellow River (Fa Yeun Li?) against the Japanese invaders. Seeing that they were to be soon overrun, the KMT broke dykes along the river to escape the Japanese. As a result of the massive floods, over eight million people were affected. As an apology, Chiang Kai Shek said we would give 20 million yuan to the flood victims. However, over half of that money was kept by the KMT. Many refugees died. The saddest part, she notes, was that many children died and their parents had to bury them. Hunger was so widespread that others actually unburied the bodies and ate them. After hearing about the Communist win in 1949, she felt that anything would be better than the Nationalists. With papers stating that she is a United States citizen, Yi Han is forced to give up her US passport.
* July 25, 1956-Yi Han becomes a professor in library science at Beijing University.
* 1960 - 1961-As part of the Great Leap Forward (which commenced in 1958) and the second five year plan, Yi Han is taken from Beijing University and sent to a farm in the west of China for to help in the nation's agricultural effort.
* 1961 - 1965-Yi Han is back in Beijing.
* 1965 - 1966-As part of the Cultural Revolution, Beijing University is shut down, as were many schools throughout the country. Yi Han is sent to a farm in the east for re-education. Reluctant to talk about that period, all Yi Han would say is that it was "an awful time for most of the people." She says that she has no bitterness of that time. A colleague at Beijing University, Professor Xu, says that Yi Han was and is "very bitter." A former Red Guard at the time, Mr. Huang (now a tour guide in Guangzhou), told me, "During Cultural Revolution, everything was upside down. Now we know Cultural Revolution was a mistake."
* 1969 - 1971-Yi Han was sent to Jiangxi Province for further re-education through hard labor.
* 1971-Yi Han returns to Beijing University to help re-design the new library. At that time, only workers, farmers, and soldiers were admitted as students. Most did not even finish junior middle school and were not ready to be in college. English was banned. In 1972, new students were admitted but it was still a difficult time until 1977 when new students were required to take entrance exams. Yi Han taught library cataloguing of foreign language books.
* May 22, 1973-Quan Chew dies.
* 1976-On January 8, Premier Zhou Enlai dies. On April 5, The Tiananmen Incident, occurs. Violent clashes break out in Beijing and elsewhere between authorities and demonstrators mourning Zhou Enlai. Many of Yi Han's students are killed.
* 1976-The Chinese Rathskeller Restaurant closes.
* April 13, 1980-Quan Gwei Sihm dies.
* 1989-On June 4-5, student and worker protesters in Beijing are massacred when regiments of the People's Liberation Army move into Tiananmen Square to squash pro-democracy demonstrations. More of Yi Han's students are killed.
* February 4, 2001-Quan Shun dies.