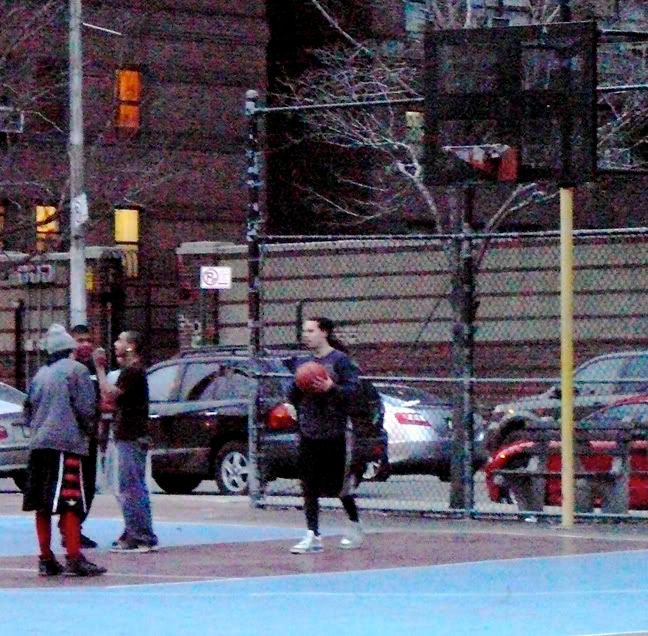 Did everybody catch that Jose went into Pete the Hero King to get his sandwich? That was another thing about that place that made it magical, working men were in and out of there all the time. It made a little pischa feel like a man to pick out the bread and tear out the dough and order up.

Always liked that place despite the flies stuck between the sign and the window.

THE FLIES BETWEEN A COUPLE OF SLICES OF BREAD, BACON, LETTUCE AND TOMATOES, WITH MAYO MAYBE COST A BUCK. TWO BUCKS WITHOUT THE FLIES.

Over the past many years, and fairly recently, I would get into the elevator in my apartment ( with Jose Torres.I think either his daughter or girlfriend lives in my building. We would always politely say 'hi' to each other, as familiar faces...I certainly recognized him as the great former boxer. My observation of him each time, was that this man still had a body that looked like it was made of stone, with the structure of his face looking like something that was sculpted from granite. I had a sense of his age from remembering that his glory days in the ring were in the 60s...but he looked great, as recently as a few months back, the last time I bumped into him...like he could still go a few rounds. A quiet, nice man!

THE SAME COULD BE SAID OF QUITE A FEW KNICKERBOCKER WISEGUYS. NICE QUIET MEN. UNFORTUNATELY, MY PERSONAL EXPERIENCES WITH TORRES WHEN HE WAS CHAIRMAN OF THE NY STATE AC WAS THAT HE WAS AN INTEGRAL PART OF THE CESSPOOL THAT WAS AND WILL ALWAYS BE THE BUSINESS SIDE OF BOXING. WE GO THROUGH ERA AFTER ERA IN BOXING WHERE SOME PEOPLE FROM FRANKIE CARBO TO DON KING ROB THE FIGHTERS BLIND, WHILE ENHANCING THEIR OWN BANK ACCOUNTS. JOSE TORRE WAS IN A POSITION TO DO GOOD FOR BOXING AND THE FIGHTERS. INSTEAD HE JOINED THE SEAMY SIDE. IN FOR A DIME, IN FOR A DOLLAR. WHAT MADE IT EVEN WORSE IS THAT HE HAD BEEN A FIGHTER HIMSELF AND YOU'D THINK HE WOULD HAVE BEEN MORE SENSITIVE TO THE POOR BOXER'S PLIGHT. BUT AS WITH ANYTHING ELSE MONEY TALKS AND BULLSPIT WALKS. I KNOW HE'S DEAD AND SOME PEOPLE FIND IT ANATHEMA TO SPEAK BAD OF THE DEAD. I HAVE NO COMPUNCTIONS WHEN IT COMES TO PEOPLE LIKE JOSE TORRES. I BET I KNOW WHO THAT YOUNG WISEGUY WITH THE GUN WAS. UNFORTUNATELY, MY LIPS ARE SEALED. YOU COULD CALL IT SELF PRESERVATION. EVEN FROM THE GRAVE THESE GUYS HAVE LONG ARMS AND FAST HANDS.

Elevator experiences has been one of my retirement ideas for a book which any of you are welcome to, since it appears now I'll never retire. I was in an elevator with Bill Cosby and the guy who was in the tv show Mod Squad. Our son once rode the elevator with Scarlett Johansson and my Mom was in an elevator at Macy's, obviously a number of years ago, with Eleanor Roosevelt.

All marvelous experiences, I'm sure. I'd gladly volunteer to trade places with your son.

Scarlett Johansson, ok let's point to her when Jews get a bad rap for Bernie Madoff.

WHEN I WORKED FOR BERT SUGAR AT RING MAGAZINE, I WAS STUCK IN HIS ELEVATOR IN AN OLD BUILDING ON 31 ST BETWEEN 6 TH  AND 7 TH AV. I HAD JUST DROPPED OFF MY COPY, WHEN THE ELEVATOR STOPPED BETWEEN FLOORS. I WAS IN THE TINY ELEVATOR (THINK KV BUT SMALLER) WITH FOUR WOMEN. ONE OF WHOM WAS CLAUSTROPHOBIC. IT WAS RIGHT ABOUT 5 PM, QUITTING TIME. THE ONE WOMAN STARTED FREAKING OUT. SHE WAS SCREAMING ON THE FLOOR ROLLED UP INTO A BALL LIKE A FETUS. NICE, REAL NICE. I STARTED SCREAMING FOR ANYONE TO HELP US OUT. I HEARD BERT UPSTAIRS SAYING HE WOULD CALL THE OWNERS OF THE BUILDING.
ABOUT AN HOUR LATER (IT SEEMED LIKE ABOUT A WEEK), THE DOOR IN THE CEILING OF THE ELEVATOR OPENED AND TWO HASIDIC JEWS DROPPED DOWN TO RESCUE US. I WAS NEVER SO HAPPY TO SEE ANYONE IN MY LIFE. I IMMEDIATELY RAN TO THE NEAREST BAR TO SETTLE MY NERVES. BERT MET ME AND TRUE TO FORM, I STILL PAID. THE NEXT TIME BERT SUGAR BUYS A DRINK WILL BE THE FIRST TIME.

I'll start taking the stairs, instead of the elevator.

Is Bert Sugar still smoking the same cigar?

FUNNY THING I KNOW BERT MORE THAN 30 YEARS AND I NEVER ACTUALLY HAVE SEEN HIM SMOKE THE DAMN CIGAR. IT'S ALWAYS UNLIT, STUCK IN THE CORNER OF THIS MOUTH. THE CHEAP B------ DOESN'T WANT TO SMOKE IT, BECAUSE THEN HE HAS TO BUY ANOTHER. AND THE CIGARS HE HAS ARE THE CHEAPEST ON THE MARKET. BURNT ROPE TASTES BETTER. LIKE WHITE OWLS, OR SOMETHING WORSE.DEAD OWLS.