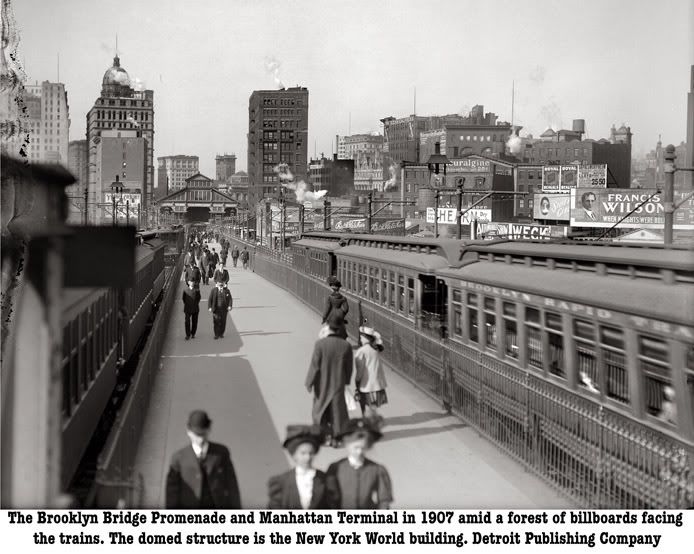 The comments
about this picture from the shorpy post
The Brooklyn Bridge Promenade and Manhattan Terminal in 1907 amid a forest of billboards facing the trains. The domed structure is the New York World building. Detroit Publishing Company glass negative. View full size
Thank you for bringing attention to the Frank McLees sign on that distant building. Frank was my grandmother's brother, and son of Archibald McLees, a famous engraver of the 19th century. Frank grew up in Rutherford, thus the Passiac river connection. Frank took up his father's trade and was a quite good engraver himself, although I suspect his time witnessed the transition to more modern techniques. Some of his father's work can be seen in my picture gallery.
The World Building
Joseph Pulitzer had an office beneath its golden dome. Not that Joe ever used it much. Last I heard he worked ensconced in his yacht out in the harbor to avoid stressing his delicate hearing. I wonder if that story's true.
The tall building to the right of the terminal has the tenants' names painted between the floors. I found an old invoice for Fred K. Pearce Co., which seemed to be into electrical equipment and supplies. Here's an address for the invoice image, itself a real artifact from another age:
The pen is mightier than the sword. Waterman's capillary fountain pen design, patented 1884, is still on sale today. You have to look hard for a sword. While his name loomed large over New York City, Waterman himself died in 1901.
I find this photo really interesting - nobody seems to be in a hurry and there's not a cell phone or blackberry to be seen!
Man, that's more billboards than Carter has pills.
1. Based on the titles and venues seen in the theatrical signs, this shot seems to date from October or November 1907. 2. Francis Wilson, star of "When Knights Were Bold," was the first president of Actor's Equity (1913), and has an interesting connection with Eugene Field, author of "Wynken, Blynken and Nod." 3. Cerotypes were wax-engraved printing plates. Eleven years earlier, Frank McLees of the firm, while paddling a canoe on the Passaic River, accompanied by "a lady," rescued an 11-year-old boy from drowning (NYT 6/29/96).
That statue-with-trumpet on the building to the right... Amazing! It must've been
What strikes me about this magnificent photograph isn't its quaint antiquity but its modernity. It almost seems to be a futuristic vision, or glimpse of another planet. Everything in view, with the exception of the sky itself, is man-made. Gigantic words and phrases loom above everything; plumes of steam or smoke rise into the air, produced by infernal machines. H.G. Wells or Jules Verne come to mind.
The billboard for Carter's Pills brings to mind the company's later radio ads for: "Carter's Little Liver Pills - A mild diuretic for the kidneys"
I can't take it all in at once, this is the kind of picture that has to be studied. It's got to be one of the busiest city shots I've ever seen. Congratulations again to Shorpy. I hadn't thought of the Drake Schools for years, in the late 1940s I used to take college preparatory courses there.