Below, ARod
seems not to be attuned to the crack of the bat, but to the crack of Kate Hudson's tush.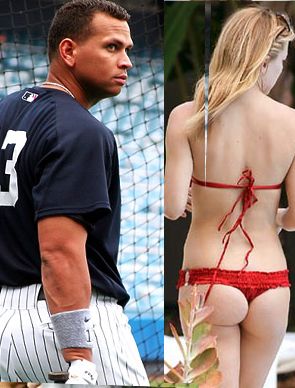 There's been a lot of KV chatter over the big Yanks-Sox series. Some hard facts to swallow from the Yankee contingent.
Another amazing performance tonight...have they ever lost six in a row to the Red Sox before? Maybe in the dead-ball era. And all of the losses by steadily bigger margins.
A-Rod looks strangely terrible. I wonder if that's still his injury. And there's a reason why Burnett has always been essentially a 13-12 pitcher, which we saw again tonight. Deep as the Yanks' starting staff is, it's basically made up of No. 2 and No. 3 guys (C.C. Sabathia ever scare you when he was in Cleveland?), while the Sox have two No. 1s in Beckett and Lester.
Needs to keep it zippered.
Losing to the Snot last night was terrible.  Time to take control tonight, or is it Wang tonight?  He suffers from the Contreras disease of getting shellacked by only Boston.  
Wang is a perfectly capable No. 3 pitcher, but that's all, and right now he's still recuperating. Plus the Yanks can never hit Wakefield. I'd say this is seven in a row, coming up.(Incidentally, I looked it up. The record for consecutive Yankees losses vs. Boston? 14, from the start of the 1912 season. That year a terrible, last-place Yankees club [the last, last-place Yankees team until 1966] went 2-19 against the Sox, who won the World Series. I think we have a good shot at the record.)
Even here in Europe, it's easy to see that Wang and Hughes got rung up last night. 0-7 is enough. With eleven games left in the season series, there's still time to salvage some credibility. We can't be beating the Rangers and Orioles or Twinkies and expect to slide to the pennant. (But then again, it's only numbers and the more Ws one gets is all that counts.)
Sure. In a league where the likes of the Tigers and the Rangers are actually leading their divisions, the Yanks could easily snag the wild card. Then, who knows? The Red Sox could suffer some devastating injury, or go cold for a short series. Stranger things have happened, as they say.Much more likely, though, is that this thin, aged Yankees team will collapse. Matsui is already halfway to a rocking chair, A-Rod is obviously ailing, Damon and Posada broke down the last two years, Mo is coming off an operation, and Jeter seems to grow older by the minute. One big injury, and they're gone. It's ironic—or maybe it's karma!—but we seem to have changed places with the Red Sox. A team full of old, moribund sluggers whose statistics are embellished by a homer-happy band box but who can't win on the road...a suspect pitching staff and particularly bullpen...a tendency to look intimidated before they start against a much more clutch team that knows how to win...How many years did I see Red Sox teams like that and rejoice in my heart? Now Cashman and assorted Steinbrenners have reversed the natural order of things. Many curses upon them, that we should live to see this day!
Yup, 0-7. And then there's this news, on the Yanks' No. 1 draft pick...now that Brian Cashman admits to being in charge. The pick is one Slade Heathcott who, if he says so himself, is a five-tool player.  More significantly, "Heathcott, a left-handed hitter, had knee surgery last November..."
This is one of Cashman's more bizarre theories, the idea that the Yanks are better off signing injured players, because they can get them more cheaply.  This is the intellectual equivalent of saying that you are better off purchasing a tireless wreck under the West Side Highway than a new Lexus, but Cashman will not give it up, even after witnessing the theory's spectacular failure with the likes of Humberto Sanchez and Octavio Dotel.
You can go ahead and add Heathcott to Cashman's roster of other can't-misses, which right no w includes Ed Yarnall, C.J. Henry, Eric Duncan, Drew Henson, Steve Jackson, Sanchez...  
Many to follow, I'm sure...  
have you guys seen this from the dailynews if true, it's consistent with tipping that a-rod was accused of  
before. maybe that's why teixera gets hit a lot


Accusations bring A-Rod, Mark Teixeira to tipping point BY Mark Feinsand Hours before they were to do battle with the Red Sox Tuesday   night, Mark Teixeira and Alex Rodriguez were involved in different  type of confrontation, this one inside the Yankees' clubhouse.Upset with an accusation made by ESPN's Rick Sutcliffe two weeks ago, the two players approached the former Cy Young winner to discuss the  
situation.Sutcliffe said on the air that A-Rod had been feeding Teixeira verbal  signs from the on-deck circle, giving his teammate a heads-up on the catcher's location before the pitch was delivered. Teixeira and A-Rod pulled Sutcliffe aside when they saw him in the clubhouse last night, expressing their displeasure with his charges.



I'm only in the experimental stage of this, but for all of us Yankee fans, I am dabbling into the realm of the 'X-Files'.
If the experiments are successful, tonight's Yankee line-up against the Red Sox will be as follows:
Bobby Richardson - 2B
Tony Kubek- SS
Mickey Mantle- CF
Roger Maris- RF
Yogi Berra- LF
Elston Howard- C
Bill Skowron- 1B
Clete Boyer- 3B
Whitey Ford- P
If this works, my next experiment will involve the DH.
I remember being in K &K patiently waiting to pay for something when Mantle was at the plate. Everything stopped. No one spoke with all eyes on the screen until the at bat was over then life resumed and they took my money