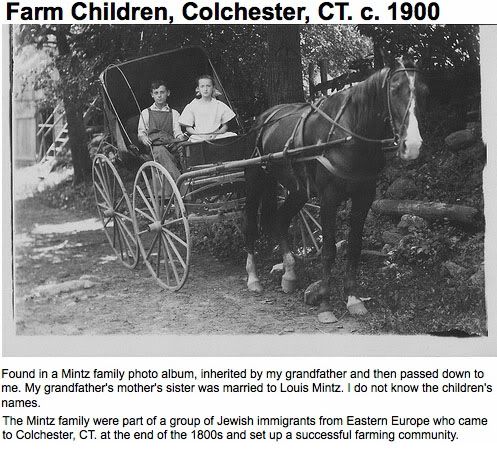 The Mintz's were evidently part of the same group as the Lapping's
above photo and below info from the Mintz flickr page
Found in a Mintz family photo album, inherited by my grandfather and then passed down to me. My grandfather's mother's sister was married to Louis Mintz. I do not know the children's names. I do not know the farmer's names, but it's possible they are Louis, Simon, Soloman or Benjamin Mintz.
The Mintz family were part of a group of Jewish immigrants from Eastern Europe who came to Colchester, CT. at the end of the 1800s and set up a successful farming community.
Hyman Mintz owned the old victorian house that sits on Hammond Court in early 1900s. When he died, his daughter Katie inherited that property. Previously owned by the Zenowitz family, it's now owned by the Stevens's. Question is, is this horse and buggy traveling down Hammond Lane, a common pathway up until 1955 when the town of Colchester moved the pathway to what is now Hammond Court? My resources tell me the road was stopped short by erecting a longer building on what is now the Coiro's propery and moved because the Colchester Convalescent Home had built their facility, which years later was condemned, right smack in the middle of the pathway. If anyone has pictures, I sure would like to see them.