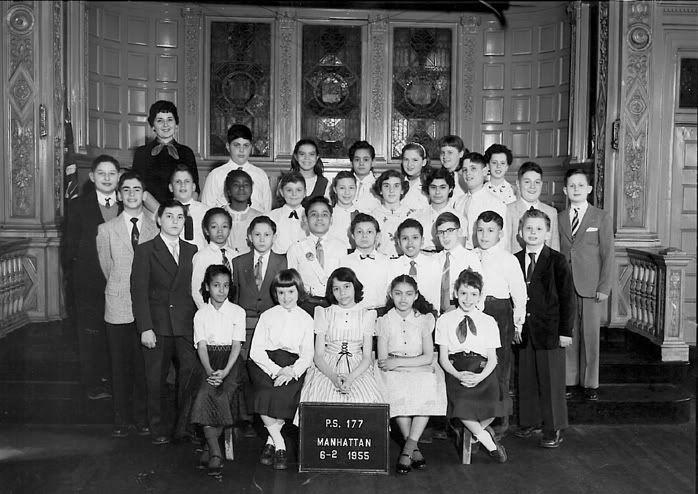 Courtesy of Susan (Gromer) Cohen. The teacher is Miss Friedman who would later be Mrs. Jonas. Anyone recognize these kids?
from Tina:
Hi.....Yes I do know one of the gals.....the second row from the top..
4th person from the right....it happens to be a friend of the family
a Greek Girl.....Mary Cavasis.....She eventually became a
a Biology and Earth Science Teacher at Seward Park HS....!!
from Paul Moloff on 3/29/09
First row: Lydia (?), Miriam Levinson, Don't know next two, and of course, Susan Gromer
Second row: Salvatore Scollo (dark double breasted suit), Charles Morris, Don't know, Alexander Morales, Don't know, Jorge Baez, Spiros Tsimbinos, Peter Strassberg, Michael Steinberg.
Third row: Paul Diamond (with sweater), Melvin Meyer, Dirk Berger, Don't know, Sophie Marcinkus, Camille Magro, Susan Mildworm, Mary Cavazis, Paul Moloff (yours truly), Paul Siniawer, Stephen Lieber.
Last row: Miss Friedman, Steven Farbstein, Lucy (?), Don't know, Barbara Sirlak, Esther Samuels, Carol Zucker.

I'm in touch with Dirk Berger (psychiatrist) and Stephen Lieber (retired school principal). Steven Farbstein is a high school biology teacher in NY. Melvin Meyer and Paul Siniawer are lawyers and Peter Strassberg and Michael Steinberg are doctors. Mary Cavazis, as someone noted, is a chemistry teacher at Seward.

On another post with regard to another subject, you wrote that the Steinbergs and Moloffs were rich because the Bar Mitzvahs were held at Glucksterns. Nah,, that's NOT true at all... (The rich part, that is).