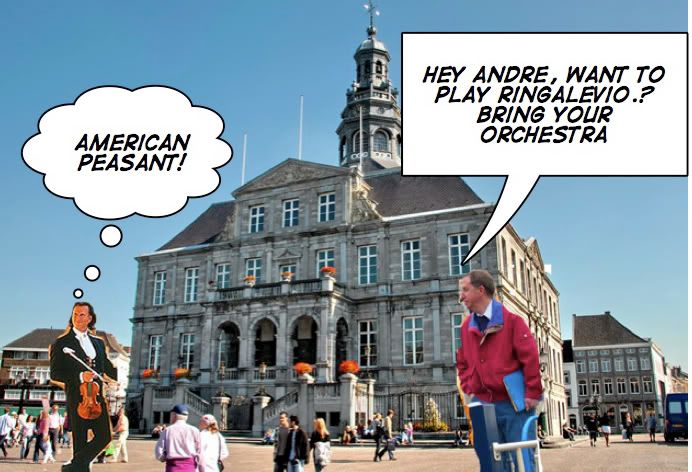 from the KV Journeyman
Standing in front of the Town Hall of Maastricht, The Netherlands, but this ain't like the town square of Brussels. Nice building, but not overwhelming. But this is the home town of Andre Rieu. Perhaps he'll play the fiddle for me while I'm here. The Maas River looked nice as I crossed it, cleaner than the East, with more restaurants and tour boats. To continue my walk, looking for Andre.
André Rieu was born into a musical family on October 1, 1949 in Maastricht in the Netherlands. He began studying violin at the age of five. His father was a conductor. From a very young age he developed a fascination with orchestra. He studied violin at the Conservatoire Royal in Liège and in the Conservatorium Maastricht, (1968–1973). His teachers included Jo Juda and Herman Krebbers. From 1974 to 1977, he attended the Music Academy in Brussels, studying with André Gertler, winning the Premier Prix at the academy.
At University he performed the Gold And Silver Waltz by Franz Lehár. Encouraged by the audience reaction he decided to pursue the waltz form. Rieu formed the Maastricht Salon Orchestra and performed as a violinist with the Limburg Symphony Orchestra. In 1987, he created the Johann Strauss Orchestra and his own production company. Since then, his melodramatic stage performances and rock-star demeanor have for some been associated with a revival of the waltz music category.