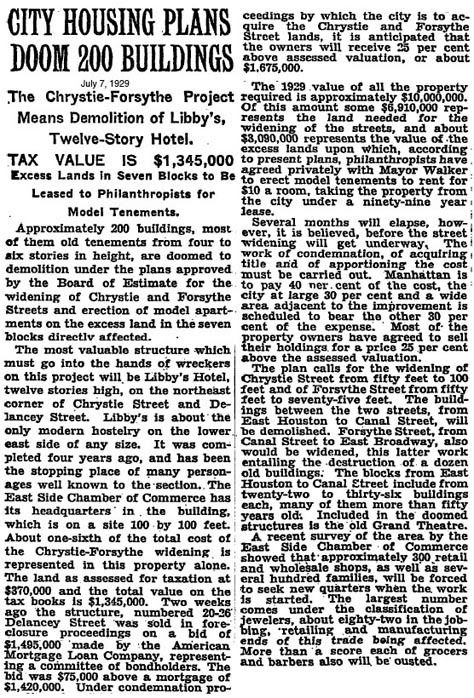 Originally new construction was supposed to take place, but then the depression changed plans. As a result Sara Delano Park was built. The sale of the Libby Hotel played a part in the disappearance of Judge Crater.
An excerpt from an article in the nypress from June 25, 2002

The Missingest Man in New York, By William Bryk
Every Aug. 6 for more than three decades, an attractive older woman entered a Greenwich Village bar, a place that had been a restaurant back in the Jazz Age. She sat alone in a booth and ordered two cocktails. She raised one, murmured, "Good luck, Joe, wherever you are." She drank it slowly, rose and walked out, leaving the other drink untouched.
Thus Stella Crater mourned her vanished husband, Justice Joseph Force Crater, who became famous on Aug. 6, 1930, when he, as the Daily News later said, "disappeared efficiently, completely, and forever."
Born to Irish immigrants in Easton, PA, in 1889, Joe Crater worked his way through Lafayette College and Columbia Law School. He opened his office at 120 Broadway (the Equitable Bldg., a huge white marble pile that was once the largest office building in the world) and joined the Cayuga Democratic Club, the power base of Tammany district leader Martin Healy, where Crater spent thousands of hours organizing election workers and representing the club in election law cases. He also married Stella Wheeler, whom he had represented in her 1912 divorce.
State Supreme Court Justice Robert F. Wagner Sr., who became a United States senator in 1926, appointed Crater his secretary in 1920. Joe was also an adjunct professor at Fordham and New York University law schools. But most of his income came through his law practice, which was enriched by his political connections. At first, he received the usual minor appointments from the courts: receiverships, refereeships, guardianships. Over time, Crater's pieces of pie were cut large. In February 1929, he was appointed receiver in foreclosure of the Libby Hotel. Four months later, the hotel was auctioned for $75,000 to the American Mortgage Loan Co. Two months after that, the City of New York condemned the hotel, paying American Mortgage Loan $2,850,000–a profit of $2,775,000 on its two months' investment of $75,000. Some cynics suggested American Mortgage Loan's managers knew about the city's plans before buying the building.
Crater could afford a new apartment: a two-bedroom cooperative at 40 5th Ave. He became president of the Cayuga Club and Martin Healy's right-hand man. And on April 8, 1930, Gov. Franklin D. Roosevelt appointed him to a vacancy on the state Supreme Court (among New York state courts, the Supreme Court is actually the lowest court, comparable to superior courts in other states). Politics had everything to do with it. So did ability: even the respectables at the Association of the Bar of the City of New York supported Joe's appointment.
He was 41 years old–young for a Supreme Court justice in New York. Crater was a well-tailored 185-pound 6-footer, with fleshy features and slicked-down iron-gray hair that made him seem older than he was. He was a fine pianist, a good dancer and liked theater.