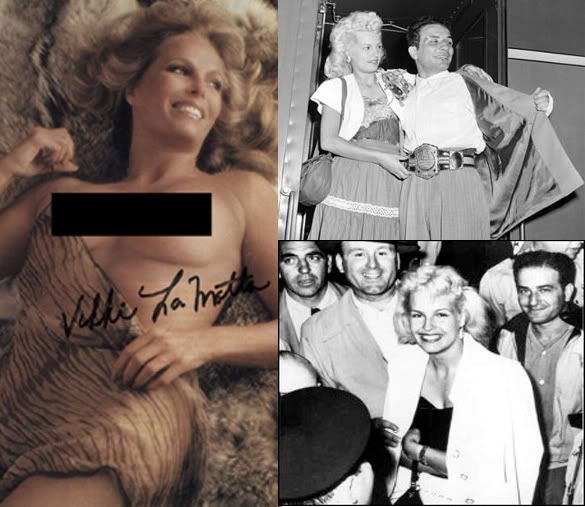 born Beverly Thailer to a Jewish family in The Bronx, New York in 1930, Vikki spent some time in Knickerbocker Village. In her heyday she was considered as beautiful and sexy as Marilyn Monroe and she still looked pretty good in her 50's. Also a very nice person.
an excerpt from a 2006 article about Vikki's autobiography
A Fitting Tribute to Vikki LaMotta, By Aaron Tallent. At first thought, Knockout by the late Vikki LaMotta and Thomas Hauser conjures up images of a nude, motorcycle-bound Anika Rodman on the cover of Worse Than He Says He Is: White Girls Don't Bounce.
I know, I know. Don't judge a book by its cover. But athlete spouse's autobiographies historically have given us little reason not to. In Anika's case, her book was a direct response to Dennis Rodman's Bad As I Wanna Be, which also featured its author sitting naked on his own motorcycle. Often, these authors only have a book deal because a publisher wants dirt on the ex, and the narrative is often a ghostwritten hatchet job. Most are also written out of desperation, as the spouse usually has a reputation to defend and bills to pay.
LaMotta, the ex-wife of former middleweight champion Jake LaMotta, did not fall into these categories for several reasons. A stunning beauty, she married Jake when she was 16 years old with a baby on the way and had two more children with him. As his wife, she saw him win the middleweight title and saw him through his subsequent self-destruction. He did not make it easy for her and beat her frequently even after she left him.
Her first date after divorcing Jake in 1957 was with Johnny Carson. Her first boyfriend was mob boss Sam Giancana. She married again in 1962 to a singer named Tony Foster and had one child with him, but the marriage would not last.
In the late 1970s, she worked closely with Martin Scorsese and Robert DeNiro in the making of Raging Bull. Not only was she trying to help them achieve accuracy, she was simply trying to keep Jake from sullying her name. After the movie was released, she posed for Playboy at the age of 51. The success from that allowed her to launch Vikki LaMotta Cosmetics, which enabled her to remain financially stable until her death in January of 2005.
While the book was released earlier this year, it was finished almost two decades ago. In the book's introduction, Hauser explains that he and LaMotta worked on her life story in 1986 and 1987, and that she "was painfully honest about some of the horrifying experiences that she endured." When the finished book received a publishing offer, LaMotta balked, uncomfortable with how the revelations would settle with her family and friends. "Maybe after I'm gone," she told Hauser.
After LaMotta's death, her son, Harrison Foster, called Hauser seeking a copy of the manuscript. After reading it and absorbing many untold stories about his mother, he contacted Hauser and asked him to reconsider publishing the book as a tribute to her.