Above a portion of the 1930 census of 516 W. 134th Street.
It shows the "famous" Solerwitz family that would later move to Knickerbocker Village.
The family had several furniture stores near KV. The Solerwitzs lived in the same building with people of Greek, Irish, and German ancestry. Below on the left is the bakery on 283 W. 118th Street where transplanted Harlem KVer Son of Seth gets his rugelach. The picture comes from
a recent nytimes feature on Harlem.
The original Seth also lived in Harlem before moving to Knickerbocker Village. Union Settlement in the right portion of the photo was in East Harlem.
It is now located on 104th Street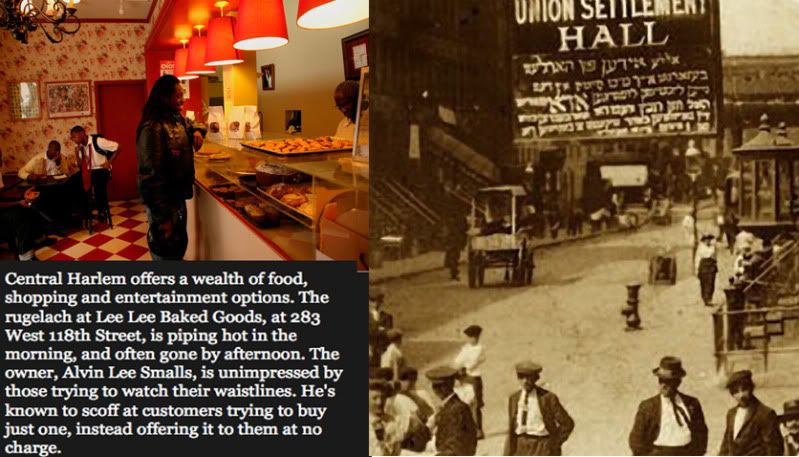 About When Harlem was Jewish from Harlem Be Spoke
A little known history of Harlem is that it was one of the the Jewish capitals of the world by 1920. Greater Harlem was 90 percent white at the time, and a one third of this population consisted of Jews who started moving into the area in the late 1880's after the construction of the trains going uptown. The Harlem Jewish population was the third largest in the world, with Krakow in Poland in the lead and downtown New York's lower east side in second place. The estimate census was around 178,000 total Jews in greater Harlem, which is slightly more than the number of African Americans living in Harlem today.
Harlem was divided into sections in the turn of the century, and this held especially true for the Jewish population. The lower photo of East Harlem exemplifies the class difference in Jewish society. Working class Jews lived meagerly east of 5th avenue while more wealthy Jews inhabited the new brownstones and French flats of West Harlem. In the 20's a small portion of African Americans began to move into Central Harlem but were also a separate community. By 1930, the white flight of the cities began and only 5,000 Jews remained. Today, Jewish communities can be found further north of Harlem in Hudson Heights and also south, on the Upper West Side of Manhattan.