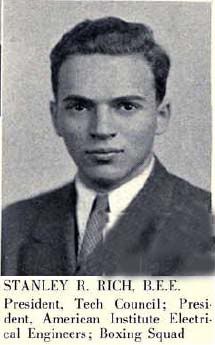 Above, as seen in his graduation from CCNY in 1938. Beginning in 1940 Stanley lived at 12 Monroe Street, apt HE5 and later moved to the 40 Monroe court. In 1943 his family moved to Cambridge, Mass. He knew Julius Rosenberg at CCNY and was suspected of being part of a group of engineers that Julius and Morton Sobell were attempting to recruit to gather classified information. In Rich's case it would be his expertise in radar.
From his nytimes obituary:
Stanley Rich, Entrepreneur, 76; Invented Submarine Sonar Device By WOLFGANG SAXON Published: November 23, 1993 Stanley Robert Rich, an entrepreneur and inventor who devised a scanning sonar for submarines in World War II, died on Sunday at Youville Hospital in Cambridge, Mass. He was 76 and lived in Grantham, N.H., and Wellesley Hills, Mass. The cause was cancer, his family said. Mr. Rich retired last month as chairman and technical director of Plasmachines Inc. in Natick, Mass., the last of several businesses he started over the years. Plasmachines is an environmental technology company that makes and sells air-pollution control equipment for combustion engines and industrial use. Mr. Rich was granted more than 60 United States patents and about 500 foreign ones since he began his career with the Navy Department of Civil Service and the Harvard University Underwater Sound Laboratory. It was at Harvard that he developed a scanning sonar for which the Navy got the patent and Mr. Rich was awarded two official commendations. A native of Manhattan, he graduated from the City College School of Technology, where he was president of the student body in 1938. After World War II, he worked for the Raytheon Corporation, heading several research departments and developing an ultrasonic machine tool and a motor-speed control system. Over four decades, beginning in 1950, Mr. Rich formed seven corporations to produce and market his inventions, which include high-intensity ultrasonic cleaning devices for industry, acoustic pollution controls and coal-cleaning devices. The companies he headed as president and as technical director include Rich-Roth Laboratories, Ultra-Viscoson Corporation and Teknika Inc. He published more than 50 technical papers, frequently lectured at business meetings and taught entrepreneurship as a Gordon Fellow at Babson College in Babson Park, Mass. He was co-founder of the M.I.T. Enterprise Forum and co-author with David Gumpert of "Business Plans That Win: Lessons From the MIT Enterprise Forum" (HarperCollins, 1987). The book is a business school text. Mr. Rich is survived by his wife, Shirley Cohen Rich; three daughters, the flutist Eugenia Zuckerman of Manhattan, Laurie Rich Alban of Rhinebeck, N.Y., and Dr. Julie Ingelfingfer of Cambridge, Mass., and seven grandchildren.