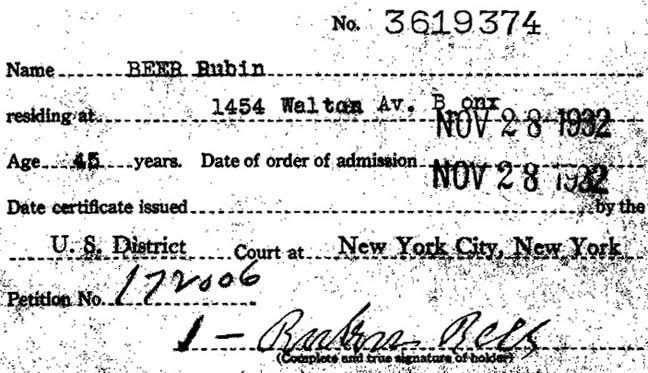 More of the journeys of Rubin Beer. If Rubin was a WWI vet he may have belatedly applied for citizenship using his service as a exemption. Looks like things haven't changed about Uncle Sam's enlistment tricks.
About the naturalization process

Naturalization is the process by which an alien becomes an American citizen. It is a voluntary act; naturalization is not required. Of the foreign-born persons listed on the 1890 through 1930 censuses, 25 percent had not become naturalized or filed their "first papers."
From the first naturalization law passed by Congress in 1790 through much of the 20th century, an alien could become naturalized in any court of record. Thus, most people went to the court most convenient to them, usually a county court. The names and types of courts vary from State to State. The names and types of courts have also varied during different periods of history--but may include the county supreme, circuit, district, equity, chancery, probate, or common pleas court. Most researchers will find that their ancestors became naturalized in one of these courts. A few State supreme courts also naturalized aliens, such as the supreme courts of Indiana, Idaho, Iowa, Maine, New Jersey, and South Dakota. Aliens who lived in large cities sometimes became naturalized in a Federal court, such as a U.S. district court or U.S. circuit court.
General Rule: The Two-Step Process
Congress passed the first law regulating naturalization in 1790 (1 Stat. 103). As a general rule, naturalization was a two-step process that took a minimum of 5 years. After residing in the United States for 2 years, an alien could file a "declaration of intent" (so-called "first papers") to become a citizen. After 3 additional years, the alien could "petition for naturalization." After the petition was granted, a certificate of citizenship was issued to the alien. These two steps did not have to take place in the same court. As a general rule, the "declaration of intent" generally contains more genealogically useful information than the "petition." The "declaration" may include the alien's month and year (or possibly the exact date) of immigration into the United States.
Exceptions to the General Rule
Having stated this "two-step, 5-year" general rule, it is necessary to note several exceptions.
The first major exception was that "derivative" citizenship was granted to wives and minor children of naturalized men. From 1790 to 1922, wives of naturalized men automatically became citizens. This also meant that an alien woman who married a U.S. citizen automatically became a citizen. (Conversely, an American woman who married an alien lost her U.S. citizenship, even if she never left the United States.) From 1790 to 1940, children under the age of 21 automatically became naturalized citizens upon the naturalization of their father. Unfortunately, however, names and biographical information about wives and children are rarely included in declarations or petitions filed before September 1906. For more information about women in naturalization records, see Marian L. Smith, "Women and Naturalization, ca. 1802-1940," Prologue: Quarterly of the National Archives, Vol. 30, No. 2 (Summer 1998): 146-153.
The second major exception to the general rule was that, from 1824 to 1906, minor aliens who had lived in the United States 5 years before their 23rd birthday could file both their declarations and petitions at the same time.
The third major exception to the general rule was the special consideration given to veterans. An 1862 law allowed honorably discharged Army veterans of any war to petition for naturalization--without previously having filed a declaration of intent--after only 1 year of residence in the United States. An 1894 law extended the same no-previous-declaration privilege to honorably discharged 5-year veterans of the Navy or Marine Corps. Over 192,000 aliens were naturalized between May 9, 1918, and June 30, 1919, under an act of May 9, 1918, that allowed aliens serving in the U.S. armed forces during "the present war" to file a petition for naturalization without making a declaration of intent or proving 5 years' residence. Laws enacted in 1919, 1926, 1940, and 1952 continued various preferential treatment provisions for veterans.