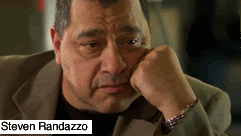 from Joe Bruno:
STEVEN RANDAZZO LIVED IN KNICKERBOCKER VILLAGE. A SINGER AND ACTOR, HE HAS APPEARED IN OVER 50 MOVIES, INCLUDING MIGHTY APHRODITE (HE WAS WOODY ALLEN'S BEST FRIEND), AND THE AWAKENING WITH ROBERT DENIRO AND ROBIN WILLIAMS.
from
Steve Randazzo's bio for the film, The Method Movie
Although I have studied in three different Acting Schools - Henry Street Settlement Playhouse, Warren Robertson, and Robert X Modica - my favorite, and most challenging acting school was the school of the streets of New York's Lower East Side.
There you learned real quick, with no time for bullshit. Either act like the character then and there, or pay the consequences. I have been in about 38 films in my 20 years as an actor. I have gone from Spike Lee, Steve Zallian, Woody Allen, and (most recently) the master, Sidney Lumet in FIND ME GUILTY, to shooting a film in the back of some stranger's yard in New Jersey for car fare and a salami Sandwich.
I love to act. I have also done some stand up comedy, only to find myself sitting at the end of the night, head in my hands, depressed. I've enjoyed being in all of the Law & Order shows, The Sopranos, numerous commercials, and a handful of plays. I'd love to do more theatre. When I make someone laugh, I feel most alive.