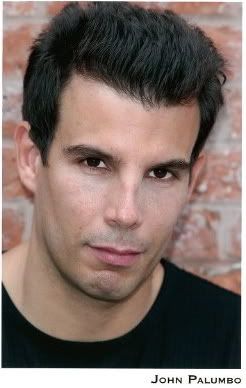 Again, according to my KV Italian history source Joe Bruno:
ANOTHER KV RESIDENT WAS BOBBY PALUMBO, WHO WAS THE HEAD OF THE OFFTRACK BETTING ASSOCIATION FOR MANY YEARS.
I can't find a pic of Bobby (Robert) Palumbo, but I did for his actor son John.
From John's biography
:
John Palumbo was born and raised in New York City. He played High School basketball at LaSalle Academy and was awarded a basketball scholarship at Salem State College in Salem, Mass. From 1986-89, John proudly served as Ball Boy for the New York Knicks. In the mid 1990s, John studied at the famed Lee Strasberg School of Acting.
from 2007
John Palumbo, an actor best known for his recurring role as Don Zanghi on "Oz," was a Knicks ballboy from 1987-89. But although he is a Knicks fan who played basketball at Salem State College under Jim Todd, his favorite memory is of Larry Bird. Before a Knicks-Celtics game at the Garden, Palumbo took on Bird in a game of "HORSE." The southpaw was holding his own, making a variety of left-handed shots, before a fellow ballboy told Bird his secret. "[Bird] went to halfcourt and sank a right-handed hook shot, then hit a one-handed shot from his knees from the top of the key, then sat down on one of the chairs at the bench and hit a one-hander right handed. He buried me," Palumbo told our Justin Terranova. "It was a real thrill. He gave me his practice jersey and sneakers." Palumbo, the 37-year-old son of former OTB president Robert Palumbo, will be on Tuesday's episode of "Law & Order: SVU." He'll play the role of Luccio Ricci, a mobster's son being investigated by detectives played by Christopher Meloni and Mariska Hargitay.