As is often the case you're searching for something and you find something else much more interesting instead. The above was found using a search query of
baxter street on the life images site.
134 White is where KVer Joe Bruno lived until 1963, the year he moved to Knickerbocker Village. Baxter Street on the right is where a favorite KV dining spot, Forlini's, is located. The Bail Bonds' office can be seen in lower right of the "then" picture below.
A story about the picture below can be found on this prior post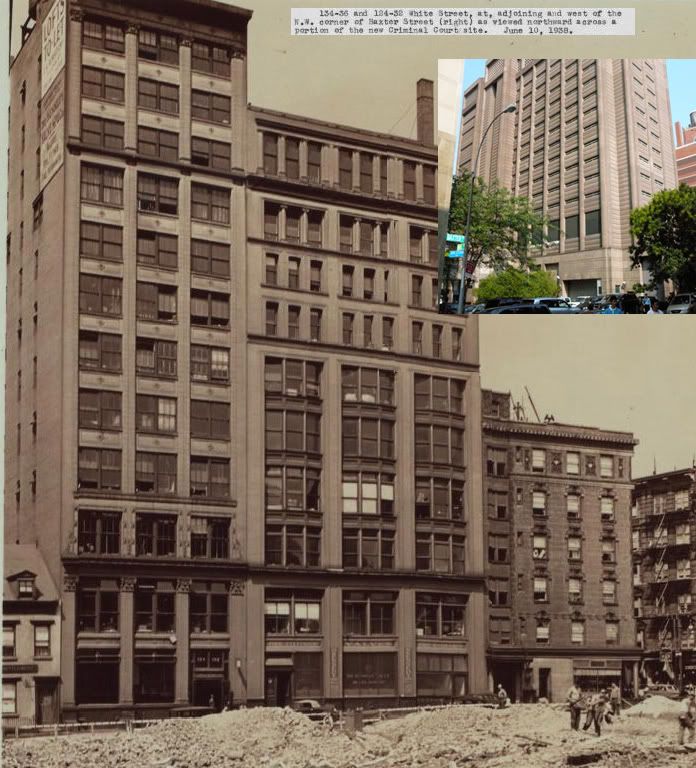 About Mr. Paris who is headed to the Tombs in the 1947 picture. (btw, I believe the caption is incorrect in stating "being led from")
Alvin J. Paris (born 1918) was a New York bookmaker and gambler who, as a "front man" for a gambling syndicate based in Elizabeth, New Jersey, fixed college sporting events through bribing of star athletes, including Rocky Marciano.[1]
After being recorded on federal wiretaps on December 15, 1946 in an investigation by Manhattan District Attorney Frank S. Hogan, a former assistant to crusading New York District Attorney Thomas Dewey, he was convicted of attempting to bribe professional football players Merle Hapes and Frank Filchock of the New York Giants with $2,500 each to throw the NFL championship game against the Chicago Bears. Paris was eventually convicted of bribery on January 8, 1947 and, although Hapes and Fitchcock were cleared of bribery charges, both men were initially suspended by then league commissioner Bert Bell (with Filchock being allowed to play the final game against the Chicago Bears).
During his trial, Paris chose not to take the stand in his own defense and later testified against his partners David Krakauer, Jerome Zarowitz and Harvey Stemmer, for which he would later receive death threats. Paris's sentencing had been deferred until after the second trial and he received a one-year sentence on April 7 of which he served nine months before his parole.
postscript from Joe:
Only problem is, he's walking toward the Tombs, not away from it. You can see where Forlini's was in the background right and Cecila and Denis Maruffi's building is a few doors before Forlini's. When I was a kid, Frankie Russo had a bail bonds office in the bottom of my building on the corner.