above and directly below from nychinatown
A then and now of the storefront where the tunnel starts. The arrows point to vestiges of the past still visible. Below is a map of the tunnel leading from Doyers to East Broadway and Catherine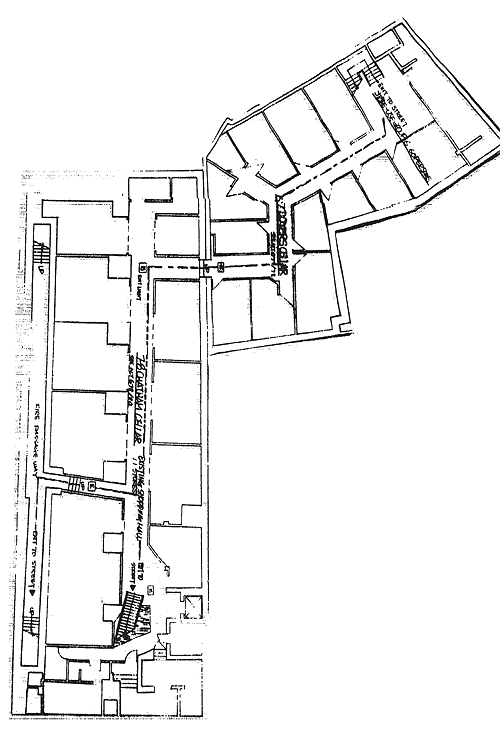 below from nydaily photo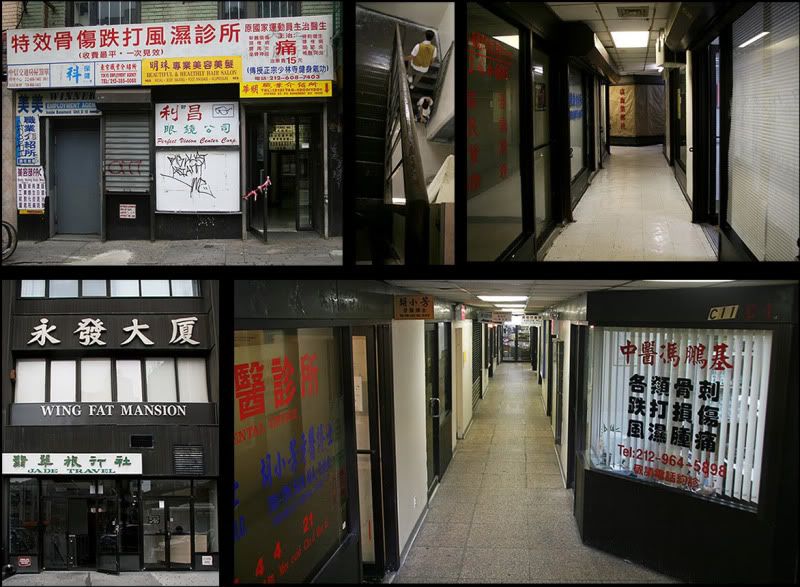 There's been some kv chatter about secret tunnels of Little Italy and Chinatown:
Q: I interviewed Scorcese once. Anyway, he told me about how there used to be some sort of tunnel on Elizabeth Street, where you could go down and come up a couple blocks away. You guys ever hear about this? I wonder when it dates back to, and what happened to it.

A: There were also tunnels in Chinatown, on Pell, Doyer and Motts street. They were used so that people could escape to either the East River, or Hudson River.
As for Scorcese, I remember him as a kid (he's 4 years older than me). He came from up Elizabeth near old St. Patricks. That was his parish. I'm from Baxter, just below Canal. right across from the Tombs. My parish was Transfiguration.
But my mother knew his mother, and my Aunt Josie used to clean St Patrick's rectory, and the living quarters of the St Patrick's priests. And co-incidentally, Scorcese went to Cardinal Hayes, where I went.
The thing I remember about Scorcese was that he was small and frail. He was never a "ball player". I don't ever remember him playing in any of the organized sports games. And we had plenty. Baseball, money softball, basketball, football and money stickball.
I knew all the guys from St. Pat's because I played basketball in their gym (the first glass backboards I ever played on). And we had money stickball games in Mulberry Street, with our backs toward Houston, hitting toward Prince Street.
In my neighborhood, the games were on Baxter, between Columbus Park and the courts, hitting toward Leonard Street.
As for DeNiro, he came from what we called "the west side." I saw him around (he's exactly 4 years older than me--both of us were born on August 17). He was another non-ballplayer. In fact, when he made "Bang the Drum Slowly" they had to teach him how to hit and throw. He threw lousy in the movie.
I found the answer to what happened to the Chinatown Tunnels,
from nydailyphoto
Did you ever have a nagging thought revolving around something unresolved? I recall reading in a secrets of New York City book that there was an underground tunnel in Chinatown, now some sort of shopping arcade. However, no one I knew had heard of such a place. I do love to find the secrets of New York City. This is increasingly hard to do, so this mystery would typically make the prospect of search and discovery all the more exciting. However in this case individuals I queried included a long time resident of Chinatown for 30 years and a few members of the Chinese community all who had not idea as to what I was referring to. I began to seriously question whether such a thing existed.
Some deep digging did finally uncover the existence of a tunnel on Doyers Street in Chinatown but no address or precise location was given. I made an excursion to Doyers Street, a one block alley between Pell Street and Chatham Square. This street, which makes a sharp 90° turn was known as the Bloody Angle owing to the numerous shootings that took place there at one time. From the New York Times:
Doyers Street, a crooked, one-block street off Pell Street in Chinatown that was near the Bowery and the notorious Five Points intersection, offered an ideal place for ambushes during the wars between the On Leong and Hip Sing tongs in the late 19th and early 20th century. Tabloids of the day christened the angle in the street, and the police said that more murders occurred on that spot than in any other place in an American city.
I canvassed the entire street - there are many hair cutting salons on the street - it is sometimes known as "hair alley." At 15 Doyers Street, mid block, I found a staircase leading down below ground - it did not have the charm of a secret historic tunnel at all, but it was an underground passageway. I learned that this was known as the Wing Fat shopping arcade - a maze of quite non-desrcipt passageways with fluorescent lighting and acoustic tiled ceilings. A variety of merchants line the arcade - acupuncturists, dentists, a philatelic shop and the office of Tin Sun metaphysics. The tunnel winds it way underground, leaving Doyers Street to exit in the lobby of the Wing Fat Mansion building at Chatham Square.
This tunnel was apparently the main artery in a network of tunnels used by members of the Tong gangs as escape routes. It is interesting that there is no signage or advertising of this historic tunnel. In a way, it remains undiscovered ...