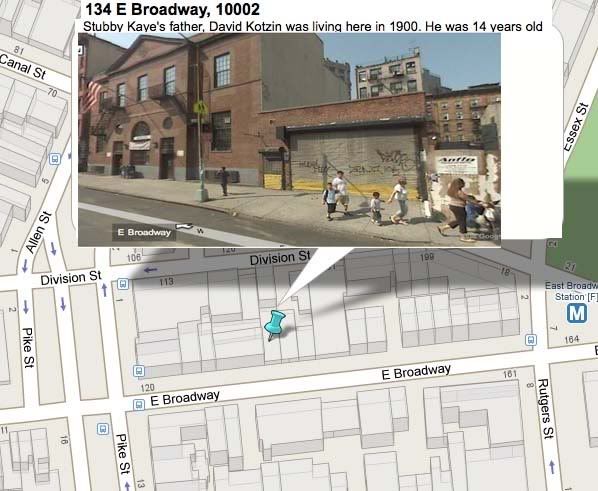 Here's the "proof" that was promised. While viewing Stubby Kaye in the Guys and Dolls clip it dawned on me that I never searched for Stubby's origins. I've come to believe that vast majority of the early actors and actresses and musical comedy stars of the stage and cinema came from New York City. If they did, they probably lived at some time on the lower east side. I then go on to use some dramatic license to substitute KV for the LES. In many cases there's a direct line to trace their immigration and migration. It leads from the boat to Ellis Island to the Lower East Side and then usually to East Harlem and then either to the Bronx or Brooklyn. In each step in their path there's an attempt to better the living conditions. What's unique about Knickerbocker Village is that it's construction in 1934 changed some of those paths. The value and location provided by Knickerbocker lead some of those "migratory" families to actually reverse course. But back to Stubby. His wikipedia biography stated:
Stubby Kaye (November 11, 1918 – December 14, 1997) was an American comic actor. He was born Bernard Kotzin in New York City on West 114th Street in the Morningside Heights section of Manhattan to first generation Jewish-Americans originally from Russia and Austria. He was raised in the Far Rockaway section of Queens and in the Bronx.
I learned while checking the census that Stubby's father was David. In 1910, before Stubby (Bernard) was born David was living in East Harlem. However, the 1900 census found a 14 year old David living at 134 East Broadway, the location of the future Knickerbocker branch Post Office. David probably played in the newly constructed Seward Park as well as attended the Educational Alliance. David's father, Solomon, was a cap maker.