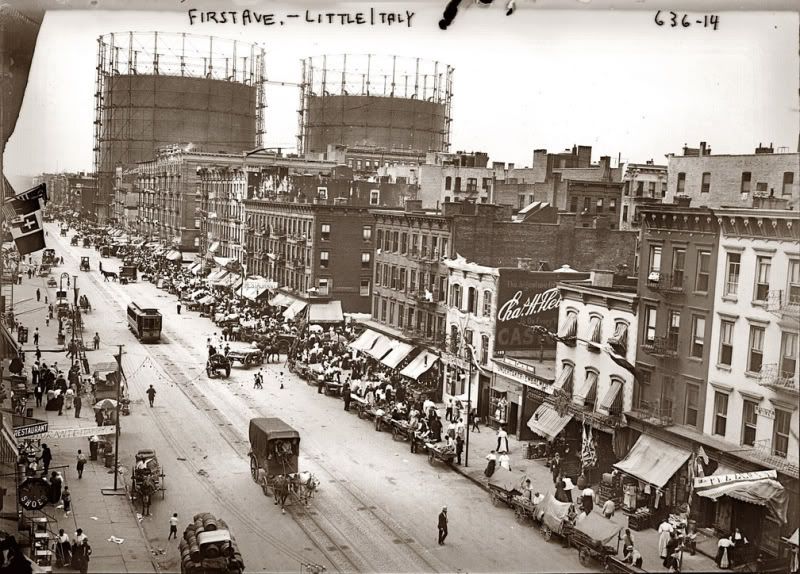 From Shorpy
New York's First Avenue at East 29th Street during the annual Little Italy festa circa 1908. 5x7 glass negative, George Grantham Bain Collection.
comments that accompanied the photo
The the danger of fire was not the greatest of the problems caused by living in close proximity to the gas tanks. Before the Second World War, New York (and many other cities) were not supplied with natural gas. They used manufactured gas, which was made by heating cheap grades of bituminous coal or bunker oil in a retort. This process produced several byproducts, including noxious, sulfurous fumes which permeated the air in the surrounding district. These tanks were located in very close proximity to several large gas manufacturing plants.
What a fire and explosive hazard - gas tanks in a residential and commercial neighborhood. I guess there were no restrictions at that time.
That would absolutely put it in the East Village, though in 1908 I think it would have been the Lower East Side.
First Avenue ends at Houston Street. Little Italy is south of that, around Mulberry and Grand Streets. This was probably another Italian neighborhood. The area around lower First Avenue is now called the East Village (as opposed to the West Village, which is really Greenwich Village). The East Village area is being gentrified with new restaurants and upscale condos. The photograph really belongs in a Godfather II scene, it is amazing.
If we use the address number 489 as a clue, the first cross street in the photo would be Those are two of the many huge natural-gas storage tanks along the East River waterfront that gave the Gashouse District its name.