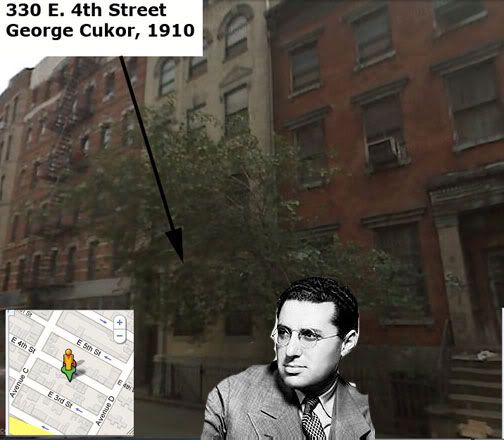 George lived across the street from PS 15. It's very possible he attended there. In the 1910 census his father is listed as a shirtwaist manufacturer! The block at that time was fairly well off. In the census George and his small family are the only inhabitants at that address. I suspect that it's wrong. They might have lived at the tenement to the right, number 328. How does George warrant "who's almost who status when this address is close to two miles fro KV? The explanation awaits.
George Dewey Cukor (July 7, 1899 – January 24, 1983) was an Academy Award-winning American film director. Cukor's career flourished at RKO and later MGM where he directed a string of impressive films including What Price Hollywood? (1932), A Bill of Divorcement (1932), Dinner at Eight (1933), Little Women (1933), David Copperfield (1935), Romeo and Juliet (1936), and Camille (1937).
Cukor was born in New York City to Hungarian Jewish immigrants, Victor F. and Helen (Gross) Cukor. As a teenager, he was infatuated with theater and often cut classes to attend afternoon matinees. Following his graduation from De Witt Clinton High School in 1916, he spent a year with the Students Army Training Corps. He then obtained a job as an assistant stage manager for a Chicago theater company. After gaining three years of experience, he formed his own stock company in Rochester, New York in 1920, giving set designer employment to a young Russel Wright, and worked there for seven years. He then returned to Broadway where he worked with such formidable actresses as Ethel Barrymore, Dorothy Gish, Estelle Winwood, and Jeanne Eagels.
When Hollywood began to recruit New York theater talent for sound films, Cukor answered their call and moved there in 1929. His first job was as a dialog director at Paramount Pictures for the film River of Romance (1929), followed by All Quiet on the Western Front (1930) at Universal Pictures. He then co-directed three films at Paramount before making his solo debut directing Tallulah Bankhead in Tarnished Lady (1931). Cukor left Paramount after a legal dispute resulting from his dismissal from an earlier Paramount film, One Hour With You (1932), and went to work with David O. Selznick at RKO Studios.
Cukor's directed a string of impressive films including What Price Hollywood? (1932 ), A Bill of Divorcement (1932) at RKO, Dinner at Eight (1933), Little Women (1933), David Copperfield (1935), Romeo and Juliet (1936), and Camille (1937) at MGM.
By this time, Cukor had established a reputation as a director who could coax great performances from actresses and he became known as a "woman's director," a title which he resented. One of Cukor's first ingenues was actress Katharine Hepburn, who debuted in A Bill of Divorcement and whose looks and personality left RKO officials at a loss as to how to use her. Cukor ended up directing her in her most successful films and they became close friends off the set.
Cukor was hired to direct Gone with the Wind by David O. Selznick in 1937 and he spent two years with pre-production duties as well as spending long hours coaching Vivien Leigh and Olivia de Havilland, the film's stars. Cukor was replaced after less than three weeks of shooting, but continued to coach Leigh and De Havilland off the set.
Following the firing of its original director Richard Thorpe, Cukor also played a similar role in the production of The Wizard of Oz. Brought in on a temporary basis he made crucial changes to the look and feel of the film. In particular, he adjusted Judy Garland's makeup, costuming and performance, encouraging her to act in a more natural manner that greatly contributed to the success of the final film.
Cukor's next film, The Women (1939), a popular film notable for its all female cast and The Philadelphia Story (1940) starring Katharine Hepburn. He also directed another of his favorite actresses, Greta Garbo, in Two Faced Woman (1941), her last film before she retired from the screen.
The 1940s was a decade of hits and misses for Cukor. He was off track with Two Faced Woman as well as Her Cardboard Lover (1942 ) starring Norma Shearer. However, he did achieve more success with films such as A Woman's Face (1941) with Joan Crawford, Gaslight (1944) with Ingrid Bergman and Charles Boyer, and Adam's Rib (1949) with Katharine Hepburn and Spencer Tracy.
Cukor's reputation as an actor's director continued as he helped several actors win Academy Awards. James Stewart won a Best Actor Oscar for The Philadelphia Story, Ronald Colman won a Best Actor Oscar for A Double Life (1947) and Judy Holliday won for Best Actress for Born Yesterday (1950 ). In 1954, Cukor made his first film in color, A Star Is Born which featured an impressive come-back performance by Judy Garland. He directed the ill-fated Something's Got to Give in 1962. Progress on the film was arduous throughout, and Cukor's relationship with the film's star, Marilyn Monroe, was consistently difficult and he was openly hostile towards her. Monroe was found dead in her Los Angeles home several months after the production began and the film was never completed. Two years later, Cukor won an Academy Award himself, for Best Director, for My Fair Lady (1964), for which Rex Harrison also won a Best Actor Oscar.
He continued to work into his '80s and directed his last film, Rich And Famous (1981) with Jacqueline Bisset and Candice Bergen.
It was an "open secret" in Hollywood that Cukor was gay. He was also a celebrated bon vivant; during the heyday of Hollywood his home was the site of weekly Sunday parties. Cukor's friends were of paramount importance to him and he kept his home filled with their photographs.