from tv.com
84. The Face of the Enemy, First aired: 1/3/1962, Writer: Peggy Shaw, Lou Shaw Director: William A. Graham, Guest star: Sorrell Booke (Hawk) , Sylvia Miles (B-girl), Kim Hunter (Edna Daggett), Eileen Fulton (Janie Daggett), Conard Fowkes (John), Jack Warden (Neil Daggett) A former Medal of Honor winner goes on a killing spree shortly after his daughter's wedding. You can see Jack Warden staggering along 2nd Avenue around 6th Street, as well as views of St. Marks' Church, Ratner's and the movie theater that would later house the Fillmore. Lawrence Dobkin is heard delivering the celebrated two-line summation that ends each show.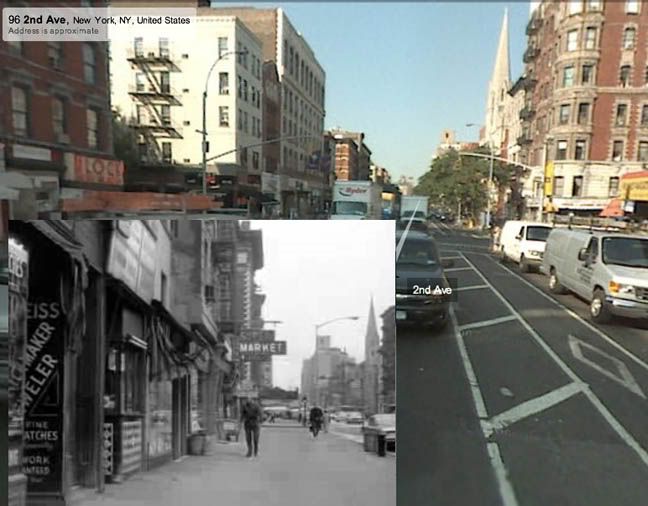 Naked City is a police drama series which aired from 1958 to 1963 on the ABC television network. It was inspired by the 1948 motion picture of the same name, and mimics its dramatic "semi-documentary" format.
Filmed on location in New York City, the series centers on the detectives of NYPD's 65th Precinct, but episode plots were often focused more on the criminals and victims portrayed by guest stars. Primary writer Stirling Silliphant nurtured a focus on intelligent drama with elements of comedy and pathos, leading to significant critical acclaim for the series, and leading film and television actors of the time sought out guest-starring roles. In addition to Silliphant, who went on to win an Academy Award for his script of In the Heat of the Night, writers of Naked City episodes included veteran TV writer Howard Rodman and blacklisted screenwriter Arnold Manoff, writing under the pseudonym "Joel Carpenter."
In addition, extensive location shooting made New York as much a star of the series as any of the actors. Many scenes were filmed in the south Bronx near Biograph Studios, where the series was produced, and in Greenwich Village and other neighborhoods of Manhattan. The exterior of the "65th Precinct" was the Midtown North Precinct at 306 West 54th Street between Eighth and Ninth Avenues.
Naked City first aired in 1958 as a half-hour series starring James Franciscus and John McIntire playing, respectively, Detective Jimmy Halloran and Lt. Dan Muldoon — the same characters as in the 1948 film. While critically acclaimed, the series did not garner high ratings and was canceled by ABC after its first season. One of the show's sponsors, along with production staff, successfully lobbied the network to revive the show as an hour-long series, which premiered in 1960.
The 1960 version of the series featured Paul Burke as "Detective Adam Flint", a sensitive and cerebral cop in his early thirties who does much of the legwork in the episodes. The preceding season, Burke had appeared with David Hedison in the short-lived NBC espionage drama, Five Fingers. Horace McMahon portrayed his seasoned and crusty superior, Lieutenant Mike Parker, and Harry Bellaver played his older, mellow partner, Sgt. Frank Arcaro. Both McMahon's and Bellaver's characters were also regulars in the earlier half-hour format series.
Also in 1960, Stirling Silliphant went on to create Route 66 (TV series) using the same semi-anthology format of building the stories around the guest stars rather than the regular cast.
The series was notable for featuring young New York stage actors who later became major stars. Among the future stars to appear in the series were Rip Torn, Tuesday Weld, Jack Klugman, Peter Falk, Robert Duvall, Carroll O'Connor, Jean Stapleton, George Segal, Martin Sheen, Robert Redford, Sylvia Miles, Jon Voight, Sandy Dennis, William Shatner, Christopher Walken and Dustin Hoffman. The show also featured such established performers as Kim Hunter, Eileen Heckart, Nehemiah Persoff, Betty Field, Luther Adler, Geraldine Fitzgerald, Jan Sterling, Mildred Natwick, Walter Matthau, Viveca Lindfors, Jack Warden, Eli Wallach, Burgess Meredith, Mickey Rooney and, in a rare performance on celluloid, Sanford Meisner, the noted acting teacher
.
Nehemiah Persoff,of course, lived in Knickerbocker Village