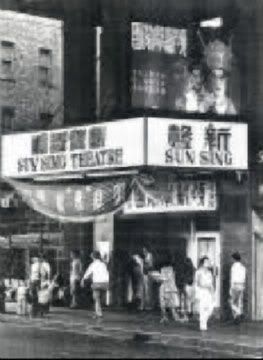 from cinema treasures
Opened as a home to both Yiddish vaudeville and motion pictures in 1911, the Florence Theatre, the exact address of which was 75-85 East Broadway, ended its existence as the Sun Sing in 1993.
A renovation in 1938 took the theatre's capacity from 980 to 916 seats (and reports from the 1920s seem to indicate that, during that decade, it may have accommodated as many as twice that number).
By 1942, the theatre had been rechristened the New Canton Theatre and featured performances of Chinese opera and variety acts. In 1950, the facility was again re-dubbed, this time as the Sun Sing Theatre, and took to exhibiting Chinese language films, sometimes with English subtitles.
In 1960, the theatre was scheduled for demolition when faced with the addition of an upper deck to the Manhattan Bridge far above. However, city engineers were able to save the theatre and the adjoining retail space, through the use of innovative bridge supports which only caused the theatre's seat count to be reduced, this time to 676.
In 1972, the theatre began to feature a mixed program of film and stage performances. It finally closed in 1993. A Wurlitzer organ Opus 418 Style 160 was installed in the Florence Theater (Sun Sing) on 5/27/1921.