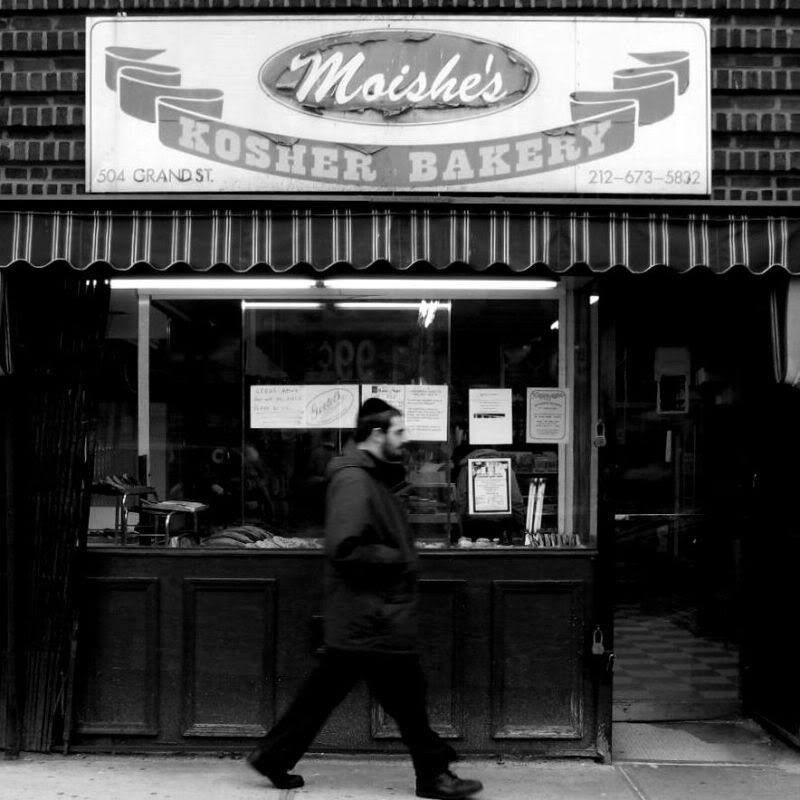 Marion mentioned the Erde's in part 5 of Marion's Memories. Her friend was Ann Erde who lived in Knickerbocker.
The family owned Mosihe's Bakery, the first of which I believe
was on East Houston Street in this vicinity
from black coffee and a doughnut blogspot
The author, Erin, is describing a trip to New York with a group from Baltimore.
On my last day in the Big Apple, we had cupcakes and pizza, but that wasn't all: we still were able to fit in two more culinary adventures before I returned to Charm City!
First was a mission for my father: he asked me to get him a "cornbread," and not the yellow southern variety, the Jewish cornbread from back in the day. You guys know what I'm talking about? It's like a rye bread but denser and with a really thick crust. It reminds me of my Dad, Grandpa, and uncles, all sitting around my grandparents' table, reminiscing about corn bread, of course!
Anyway, the BCD parents assured me that I'd have no trouble finding this delicacy in Brooklyn-- but they were wrong. I called about a half-dozen Jewish bakeries in the surrounding areas, but most didn't know what I was talking about, and one told me that they usually have cornbreads but their oven was out of commission. Lame! So, we did a bit more research and a place called Moishe's Kosher Bake Shop kept coming up.
I called Moishe's (he answered the phone in his thick Jewish NY accent: "Hello, Moishe's!") and I spoke to Moishe himself (I think), who told me he didn't have any fresh cornbreads but he did have one frozen and ready for transit. Not the best situation but better than nothing, right? So, we hopped in the car and headed into the city to Moishe's, located in the East Village. When I got there I told Moishe that I was the one who called, and he went and got my cornbread. I told him it was for my dad, which he loved. He said, "It's good with the soup! You going to make the soup for him?" I, not knowing what soup he was talking about, played along and said "Of course I'll make the soup for my dad!" But, sorry Dad, no soup for you.
Along with the cornbread, I picked up some NY bagels (most of which I've already eaten) and some onion rolls for the BCD parents. Apparently onion rolls were a favorite of my late, great, Grandpa Al, so I was happy to pick some up for the family.
Comments from the blog post
I have never heard of this jewish cornbread if which you speak. Possible to provide pics? recipe? How is it normally served? (with a certain kind of soup i take Stef - It's actually a sort of sourdough rye bread - and was a big favorite import from NY when we were growing up.