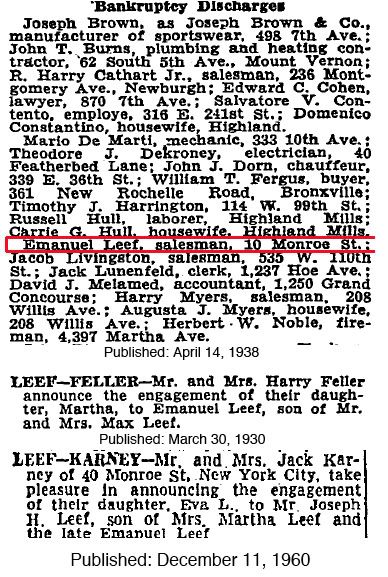 above some Times' articles mentioning the Leef's
Marion spoke about her good friend Teddy Leef and how she had an apartment on an upper floor in the E building.
It was Teddy's mother Martha who thought she saw evidence of a wild party at Marion's house back in the 50's. I had forgotten that Teddy's brother Joe married my friend Richard's older sister Eva. When Marion mentioned the story I remembered that Eva emailed me about her connection to the Leef's
Hi David,
I'm Eva Karney, Richard's sister, now Eva Leef. It was a thrill to see your website about Knickerbocker Village. My nephew sent it to me. KV was a really special place when I was growing up. I'm six years older than Richard, and I too have fond memories of the carefree life we spent there. Do you remember the movies in the basement on Friday afternoons? The package room? It was a time when no one was afraid to walk in the basement or even over the roof when the elevators weren't working. Thanks for the tribute to my father's works. His books have a special place in all our homes. BTW, my husband is also from KV--Joseph Leef, lived there with his mother Martha, father Emanuel and sister Teddy (all deceased).