From Joe, another despondent Yankee KVer
NOW THAT I'VE GOT THIS ALL FIGURED OUT, MAYBE JOE GIRARDI CAN FIGURE OUT HOW TO WIN A GAME ONCE IN A WHILE.
WHY DID HE TAKE OUT MARIANO AFTER HE THREW ONLY 18 PITCHES IN THE 9TH INNING, WITH 14 OF THEM BEING STRIKES? HE HAD NOT PITCHED IN THREE DAYS. ONE MORE INNING WOULD NOT HAVE KILLED HIM.
I LIKE PHIL COKE, BUT THE FIRST BATTER PENA HIT A HOME RUN TO WIN THE GAME.
AM I THE ONLY ONE WHO NOTICES GIRARDI MAKING LITTLE MISTAKES THAT THAT TURN PIVOTAL IN CLOSE GAMES?
AGAINST THE RED SOX, THE YANKEES WERE 3 RUNS DOWN. TWO ON, NO ONE OUT. ROOKIE RAMIRO PENA UP. AROUND THE 7 TH INNING. THE COUNT IS 2-0. YOU'D THINK THIS WOULD BE AN AUTOMATIC TAKE SIGN.
NO WAY. PENA SWUNG AT THE 2-0 CURVE IN THE DIRT. THEN SWUNG AND MISSED AT TWO MORE BALLS OUT OF THE STRIKE ZONE. THE YANKS NEVER SCORED IN THAT INNING.
TORRE WAS NOT A GAME-TIME GENIUS AS A MANAGER. BILLY MARTIN WAS. BUT GIRARDI IS TURNING INTO A BAD IMITATION OF A GAME TIME TORRE.
EXCUSE ME WHILE I PUT A GUN IN MY MOUTH.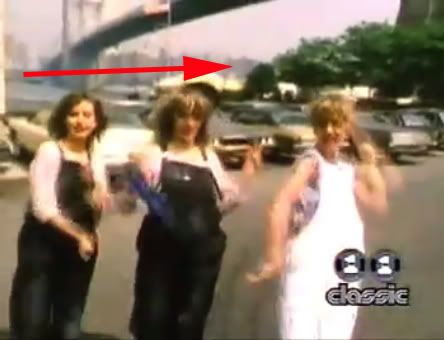 Above, KV in a still from the bananarama video