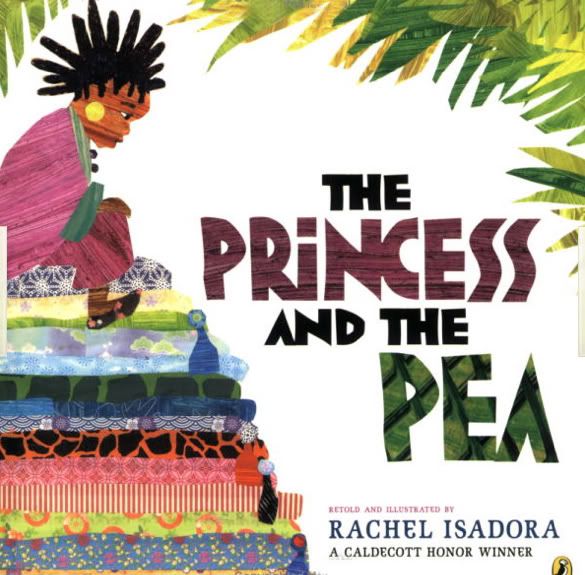 A new book by Kver Rachel Isadora
5.0 out of 5 stars I adore this book, January 27, 2009
By Jenifer Grady "lusciousliterate" (Chicago, IL) - I've searched, hoped and contacted publishers about an African-American version of the Princess and the Pea. This book is so much more than that. It's beautiful and the story is rich. It's not just a typical story with the characters colored in brown. It's got culture in the characters, the design, and the content. I am truly thankful to Ms. Isadora for producing such a lovely book.
5.0 out of 5 stars African American Princess, January 2, 2009
By Jupiter Reader (Jupiter, Florida) -
With so much emphasis on princesses these days, this story is the perfect foil for the wan pink varities. In a riot of color, this queen-to-be hops upon a bed of many quilts in African prints only to find the bed unsuited to a good night's sleep and hence wins the hand of the prince. Old tale, new award-winning graphics.
5.0 out of 5 stars Check out this book, October 24, 2008
By Street Guy Professor (New York City) -
This is a very clever book and I found the style captivating. It is interesting how Ms. Isadora combines the African theme and the fun of the story all packaged in a classic story. Mr. Andersen would approve!